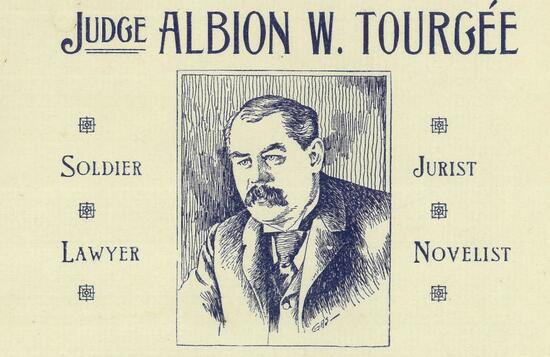 Exhibit Type:
Digital
Exhibit Description:
New Orleans, La., Nov. 27, 1891
Judge A. W. Tourgee, You are full of surprises, as an egg is of meat. I don't know positively in which capacity I like you best: whether a Soldier, Author, Lawyer, Philanthropist, or Logician – You may rest assured that I admire you very much, all around, since the day I read "A fool's errand." I sympathize with you today from the bottom of my heart.
Respectfully,
S. M. Eaton, Late, 12 Me Vol Inf'
Albion Winegar Tourgee's fortitude and irrepressible spirit of determination to help construct a new social and political order after the American Civil War based on absolute equality were hallmarks of his character, acknowledged by both supporters and detractors throughout his lifetime. The bestselling novel to which Eaton refers, A Fool's Errand, gave Tourgee a meteoric, though brief rise to fame that he was never able to completely regain in his lifetime. However, the notoriety of the book as well as the many other literary and political writings of Tourgee did indeed act like a lightning rod for political and social dialogue on race (and to a lesser extent gender) equality in the last half of the 19th century; creating a path of convergence for American citizens who wished to express their views on the issue that impacted all people across the country after the war. Whether it was political action, constitutional construction, legal rulings and arguments, social organization, literary expression, educational reform, or just plain talk, the correspondence Tourgee sent and received in his lifetime – over 12,000 items make up the collection – reveal a 19th century postwar national mood of tension, anger, anxiety, frustration, and resistance; a legacy which would ultimately erupt into the major upheaval known as the Civil Rights Movement of the 1950s and 1960s. Citation:  Flyer, speaking engagement of Albion Winegar Tourgée on the subject of "The Race Problem," at Union Park Congregational Church on April 11, 1893, found in Albion Winegar Tourgee Collection in New York Heritage. 
Online Exhibit Link: